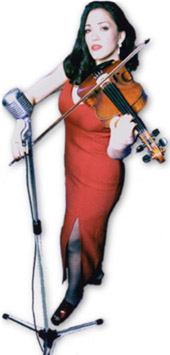 BAND LEADER, VOCALS AND VIOLA: Teri Untalan

"…her magnificent voice completely at her imaginative control…combines crystalline clarity with formidable … evocative power, providing sensual surprises with every note … and if that's not enough, she also plays a very mean viola."
— Tom Kelly, the San Francisco Bay Times
"...hypnotic vocals..(a) special talent."
— Donald Lacy, KPOO Radio, 89.5 FM, San Francisco

Active in the Bay Area for the last several years, she's performed everything from folk & pop-rock to experimental; from jazz & classical to electronica. Teri migrated west from Berklee College of Music in Boston where she pursued classical training, and studied composition, film scoring, voice and viola. The latter she studied under world-renowned jazz violinist, Matt Glazer. In San Francisco, she continued her string studies with former Turtle Island String Quartet violist & composer Katrina Wreede, and began compiling a list of her own noteworthy accomplishments including producing the LLP's debut CD "Siren Song".

Teri is also a singer/songwriter playing up and down the west coast. Check out: www.teriuntalan.com
ON THE KEYS:
Dave Fleischner

Dave started playing music at a young age and by high school he was already doing professional gigs with big bands. He went on to study at Willamette University with Dr. Martin Behnke and Berklee College of Music with Marc Rossi and bassist David Johnson. He continued to study composition with composer in residence, Dr. John Peel and played in the Big Band led by Portland bassist Tom Wakeling.

A versatile musician, Dave has performed with countless jazz greats, rockers, blues and soul legends, and the Portland Sympohony Orchestra. Some of the talent Dave has shared the stage with: The Pointer Sisters, Steve Miller, Taj Mahal, Robert Cray, Curtis Salgado, Jeff Tyzik, Charles Floyd, Mel Brown, Bobby Torres, Rob Scheps, John Gross, Warren Rand, Dan Balmer, Alan Jones, Paul Delay, Valerie Day, Chris Mayther, Kathy Walker, Gary Burford, Duffy Bishop and Monti Amundson. Dave has played with reggae bands - The African Kings and Shamir - pop and R&B singers Jane Wright and Seth Samuels, the funk band Rubberneck and many others. He has recently been involved in theatre, most notably for the Christmas themed "1945, A Christmas from Home" and for a revue of Patsy Cline music. Dave also owns and operates a project studio out of his home, where he acts as both producer and engineer for his own projects and numerous others. He teaches lessons and classes through Ethos (a nonprofit music school) and the Multnomah Art Center.
ON THE BASS:
Dennis Caiazza

Originally from Rochester, New York, earned a Bachelors of Music in Classical Guitar from the Crane School of Music in Potsdam, NY. He then studied the string bass attending the Jazz Studies Program at The Eastman School. Before moving to Atlanta in 1992 Dennis played and sang regularly with the Gap Mangione Jazz Trio and Big Band, and also performed and recorded with jazz greats Clark Terry, Roy Hargrove, Eddie Daniels, Red Holloway and Joshua Redman. During his ten years in Atlanta his playing and personal singing style kept him in great demand for local and national recording sessions, orchestra work, club dates and concerts.

Since moving to the Northwest, Dennis has had the privilege to work with some of its great musicians, Ramsey Embick, Bill Beach, Ron Steen, John Stowell, Tony Pacini, Dave Frishberg, Tom Grant, Gary Hobbs, Dan Balmer, Donny Osbourne, Rob Davis, Kenny Hing, Valerie Day and TheWoody Hite Big Band to name a few.

In February Dennis organized NWJazz and filmed a jazz recording session at the Kung Fu Bakery studio released on DVD in the summer of 04'. With NWJazz Dennis plans on continuing his career with some of Portland's finest jazz musicians for many years to come...
ON THE DRUMS:
Tim du Roche

A triple threat, DuRoche plays, writes about the music, and is a strong voice for improvised music and jazz in the larger cultural community--ONE FINAL NOTE

TIM DuROCHE is a jazz drummer, conceptual artist, curator, and freelance writer living in Portland, Oregon. Over the last decade he's played all forms of jazz from dixieland and grindhouse to swing, bop and beyond. As comfortable with a pair of brushes and a snare playing jazz standards, as with wind-up toys, gongs, sawblades, water, sand, and other sonic extended techniques—DuRoche has created performances with Beijing Opera musicians, Russian circus clowns, silent film, dance, spoken word, and with installation-performance artists.
The Lush Life Players deliver romantic, elegant and classically hip jazz for your weddings and events. LLP features Teri Untalan on vocals and viola backing by local, polished and accomplished professionals.
...also available in the San Francisco/Bay Area check out....
LLP's ROSTER OF STELLAR BAY AREA PLAYERS!:
On Guitar:
Andre Bush
, Alex Candelaria,
On Bass:
David Ewell, Ron Belcher
On Drums:
Michael Preussner, Russ Gold
+
Buy the album
at CD Baby
»
Contact
jazz at lushlifeplayers dot com
Photography: Anthony Pidgeon || Site Design: David Bloxsom